We have specialized displays for football helmets, sports jerseys, balls, clubs, guns, knives, trophies, coin collections, pennants, and fighter pilot helmets. Native Woodworks has crafted exclusive presentation cases for special rewards, retirement honors, anniversary gifts, years of service awards for companies and government agencies, military medals and American Flags.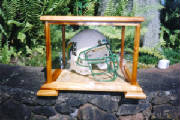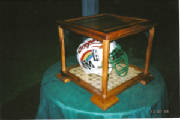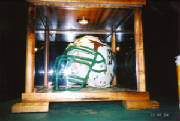 Custom Koa football helmet display box with lexan glass, lauhala matting, and recessed lighting.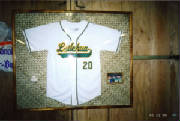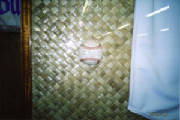 Custom Koa baseball jersey display box with lauhala matting, autographed baseball, and small Koa framed sport photo.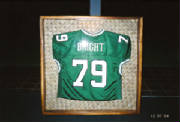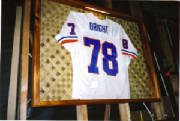 Custom Koa framed football jerseys with lauhala matting and recessed lighting.
Native Woodworks will be proud to make that memoir in your life shine. Please send us your idea of a custom memoir piece by filling out the information form at the Contact Us page and let us make your wish a reality. You may see more shadow boxes at our
Frames
page.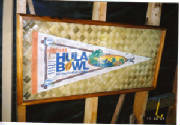 Koa pennant shadow box with lauhala matting.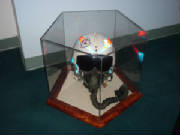 Koa base display case in pentagon shape with lexan glass, off white material, engraved brass name plate, and lazy susan components for view of every angle of the fighter pilot helmet.